Adrena Austin
Tell us a bit about yourself…
Adrena Austin is the creator and host of The Girl Power Country Hour. For six years, The Girl Power Country Hour has been celebrating the of women country music. It is important to Adrena that a storytelling genre represents everyone's truth, so she created The Girl Power Country Hour as a response to the lack of women on US mainstream country radio. No matter what is going on in the world, you can count on The Girl Power Country Hour to bring you the hottest hits, exclusive interviews and entertainment news from your favourite country queens.
It wasn't long after she started The Girl Power Country Hour that she realized, it wasn't just women who weren't getting airplay, but people of colour and the LGBTQ community were also marginalized by mainstream country radio. In her quest for a more accurate representation of who listens to and who creates country music, Adrena launched a podcast called Our Stories. Our Stories is a celebration of the diverse people, sounds and stories of country music. Previous guests have included Trixie Mattel, Jimmie Allen and Lauren Alaina. Our Stories can be found on iHeart, spotify, iTunes, CountryLine or wherever you listen to your podcasts.
An American presenter in London, Adrena is proud to be sharing a genre with her country family that makes her feel like home wherever she is. She is absolutely thrilled to play her part in the UK country revolution! She loves how country music sings to the values that are universal and relatable to all lovers of the country life (and don't we all have a little hillbilly inside!).
Adrena has many years of experience working as a presenter, model, actress, and currently as a host on CountryLine.
You can connect with Adrena Austin and The Girl power Country Hour on:
Twitter: @adrenaonair @grlpwrcountry
Instagram: @adrenaonair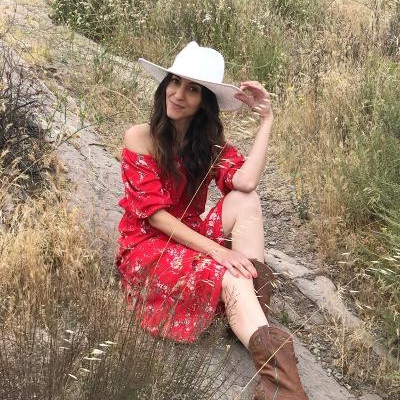 Who is your favourite country singer/band?
My favourite country singer has to be Kacey Musgraves. Her fashion and performance brings a contemporary showmanship reminiscent of days gone by. She is an inclusion queen and my perfect country trinity: sublime voice, lyrics and musicianship. She's sonically diverse while maintaining authenticity and never gets boring. Can you tell I'm a fan girl?!

What is your favourite karaoke tune?
Aww man! At first, I'll pretend like I don't want to participate, so as a warm up I may start with an old school rap like "It Takes Two" by Rob Base & DJ E-Z Rock or "Baby Got Back" by Sir Mix-a- Lot. Once I get going, you won't be able to pry the mic out of my hands and I'll bring out the big guns like Whitney Houston, "Greatest Love of All".

Do you have any party tricks?
I know the entire dance from Thriller (Note: the radio edit is not the same as the video edit, so if you ask me to perform at weddings, please know there will be some slight modification in choreography).

What is the best concert you have ever been to?
So many, but the standout has to be Lollapalooza 1994. It was just as much about the carefree time in life as it was the lineup: Beastie Boys, Smashing Pumpkins, Green Day, Wow!
What artists would we find in your music collection?
Country artists are a given, but I love listening to a variety of music. It all depends on my mood and the mood I want to be in. I love to dance, so anything that moves me from Lizzo to Latin pop. I also love to sing (mostly confined within the car or the house) so anything from showtunes to Aretha Franklin to Carrie Underwood.
What's your favourite drink on a night out?
My favourite drink on a night out (or in) is a margarita (no Jose Cuervo, please!)- salt on the rocks! Instant holiday!

Tell us the song that always makes you smile?
A song that always makes me smile is Lionel Richie, "All Night Long". It brings back holiday memories and no matter where I am, I can't help but smile when I hear it. So good!

What's the best country concert you've ever been to?
I am so lucky that perks of the job include lots of country concerts. My favourite concerts recently have been Maren Morris' Girl World Tour and Old Dominion, Make It Sweet Tour. I also recently attended a UMG showcase at The Ryman Auditorium in Nashville, featuring the label's new and legacy acts. It was exciting to hear up and coming artists like Caylee Hammack and Adam Hambrick as well as established stars like Keith Urban and Reba. What a treat! My dream concert would be Dolly Parton, who I have yet to see.