Win I Saw The Light book and poster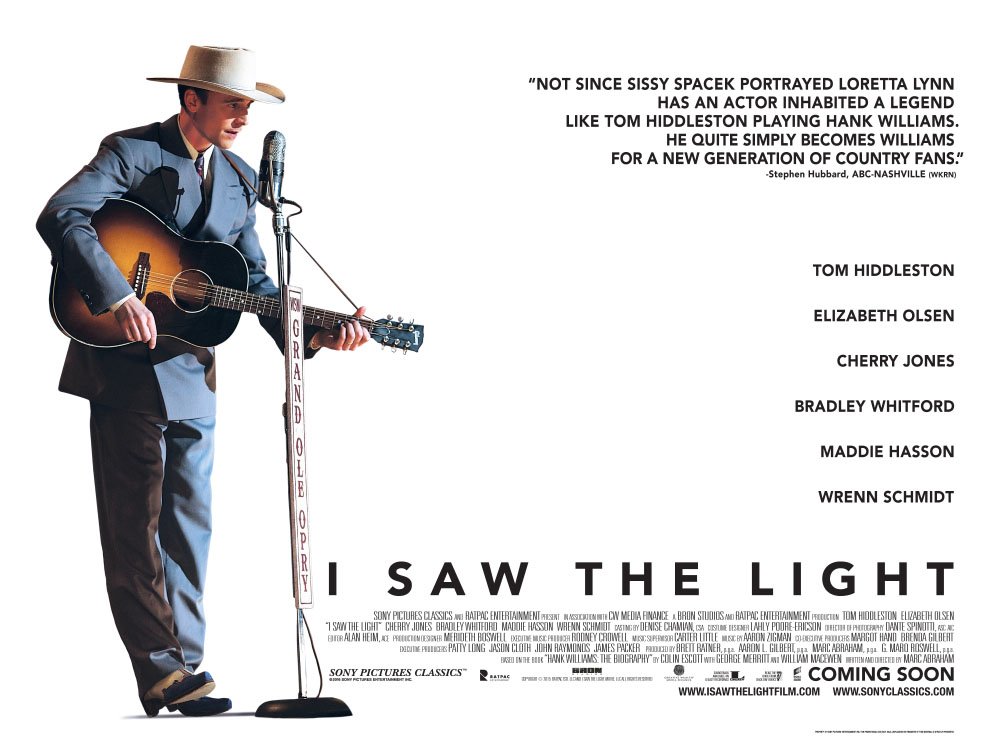 Chris Country is celebrating the new Hank Williams biopic I Saw The Light, starring Tom Hiddleston, by giving away two prize packs containing a copy of the book the film is based on, and a film posted signed by Tom Hiddleston.
About The Film
I SAW THE LIGHT tells the story of the iconic, tormented singer-songwriter Hank Williams who revolutionized country music with his raw charisma, haunting voice and original songs, most of which are considered American standards today and have been recorded many times over by pop, rock and country artists alike.
Hank Williams (Tom Hiddleston) emerged from the local Alabama music scene after World War II. Wife Audrey (Elizabeth Olsen) was desperate to sing by his side despite being of lesser talent, which fueled an extremely turbulent home life. But Williams' ability to write songs covering a wide range of emotions, using his own personal troubles as inspiration, became the essence of country music. In the end, he realized his dreams: hit records, a place on Nashville's prestigious stage and radio show the Grand Ole Opry and even guest spots on the then-new medium of TV.
Refusing to hide his longtime alcoholism and dependency on painkillers behind the wholesome facade Nashville and the Opry expect of its stars, Hank remained prolific and immensely popular until the very end of his life. Like Janis Joplin, Jimi Hendrix and Kurt Cobain, Hank's star burned brightly, but briefly over the six years before he died on New Year's Day of 1953. He was 29.
Today, country is the most popular music in America, and Hank Williams had much to do with that. His enduring qualities explain his inductions into the Country Music Hall of Fame (1961), the Songwriters Hall of Fame (1970) and the Rock And Roll Hall of Fame (1987). Williams had 33 hit country singles during his life. 30 reached the Top Ten; eight hit Number One. Seven more Top Tens came after his death with three going to Number One.
You chance to win!
To win a movie poster signed by Tom Hiddleston, and a copy of the book I Saw The Light, just answer one question about the lead star...
Movie Trailer
Competition closes Wednesday 11th May.