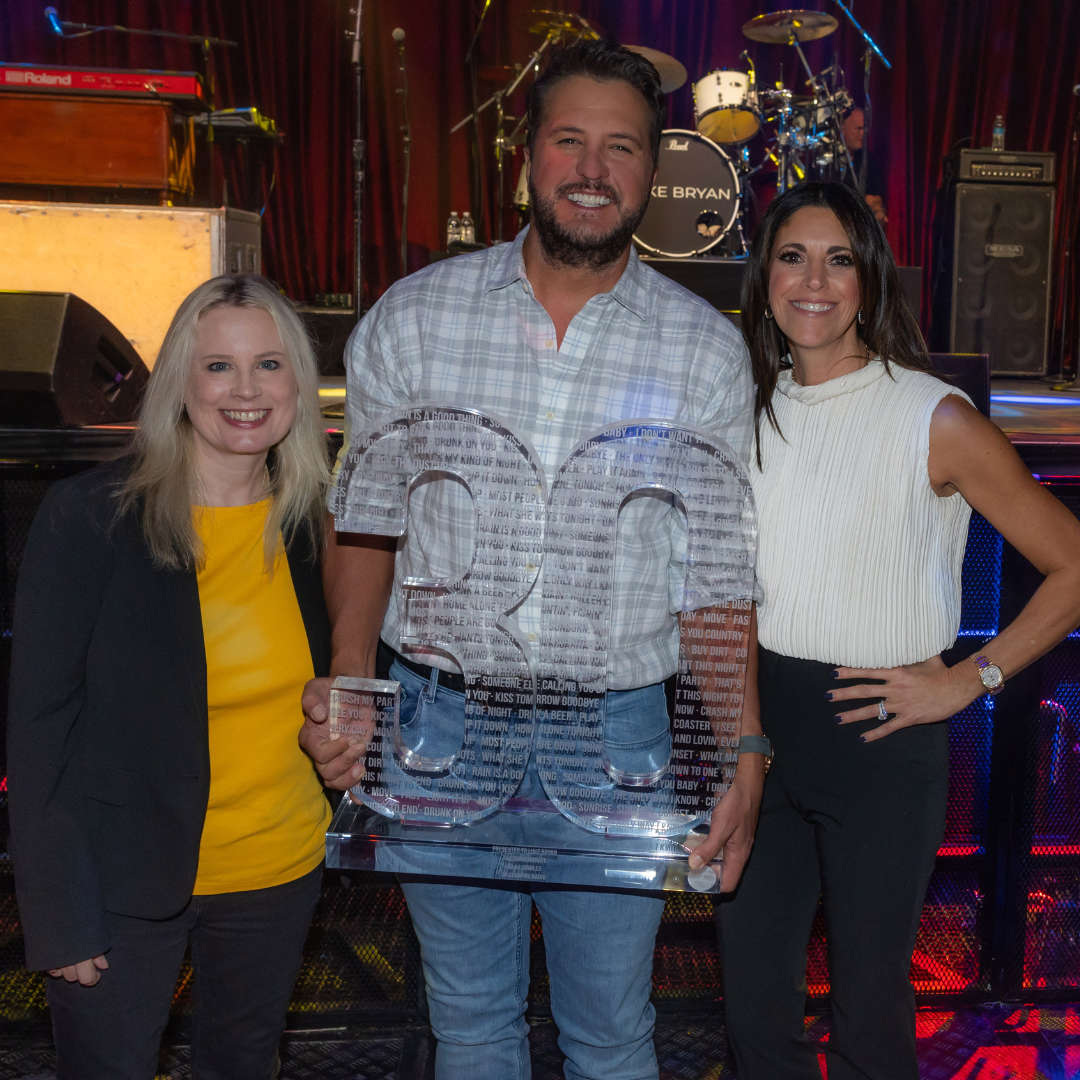 This achievement stands as a testament to his remarkable career, which began with his very first #1 single, "Do I," in December 2009 and culminated with his thirtieth #1 hit, "Country On," in December 2022. Over the years, Luke has accumulated a total of 56 weeks at the #1 spot, showcasing his enduring impact on the genre.
Country music icon Luke Bryan, a five-time Entertainer of the Year, was honored in a grand celebration for achieving the incredible milestone of landing 30 #1 singles on the country radio charts.
The celebration event commenced with heartfelt performances and touching anecdotes from some of Luke's closest friends, taking him by surprise in a series of heartwarming "this is your life" moments. Hillary Scott and Dave from Lady A delivered a rendition of "Do I," followed by Dierks Bentley, who humorously compared their #1 hit tallies and performed "Play It Again." Marty Raybon of Shenandoah, a long-time musical hero to Luke, took the stage to perform "Fast." The final surprise performer was Luke's good friend, Jason Aldean, who serenaded the audience with Luke's hit song "Kiss Tomorrow Goodbye."
In the spirit of gratitude, Luke Bryan took the time to acknowledge the many people who attended the celebration and played vital roles in his career. Among the attendees were numerous songwriters responsible for crafting the 30 #1 hits, as well as representatives from industry organizations such as ASCAP, BMI, SESAC, and more. The evening concluded with Luke himself performing "Country On."
Throughout his illustrious career, Luke has achieved extraordinary milestones, accumulating 21.7 billion global streams, 11.5 million global album sales, and 52 million track sales worldwide. He holds the distinction of being the most digitally single RIAA certified country artist in history, with 83 million units and 15.5 million album certified units, totaling 98.5 million. Recognizing his significant influence in the music industry, Luke was recently honored with the SoundExchange Hall of Fame Award for being one of the most streamed artists in SoundExchange's 20-year history.
Luke Bryan's headline concert tours have consistently sold out venues, attracting millions of fans. His impressive resume includes nearly 40 stadium concerts, Farm Tours, Spring Break shows, and eight sold-out 'Crash My Playa' destination concert events. Billboard has praised his stage presence, describing him as "one of country music's foremost ambassadors for more than a decade" with his unique blend of charisma, charm, and positivity. Currently, Luke is embarking on his 14th Farm Tour, and his "Country On Tour" is set to resume on September 28.
Among his numerous accolades, Luke has won over 50 major music awards, including five Entertainer of the Year titles. His achievements include six CMT Artist of the Year awards, NSAI Artist/Songwriter of the Year, the ACM Album of the Decade Award for "Crash My Party," seven CMT Music Awards, five Billboard Music Awards, and four American Music Awards. He was recognized as Billboard's Top Country Artist of the 2010s, named the Most Heard Artist of the Decade by Country Aircheck, and received the Artist Humanitarian Award from the Country Radio Broadcasters.
On November 8, Luke Bryan will join NFL superstar Peyton Manning as hosts for "The 57th Annual CMA Awards," broadcast live from Nashville's Bridgestone Arena on ABC. In 2024, he will return for his seventh season as a celebrity judge alongside Katy Perry and Lionel Richie on ABC's American Idol.
30 career #1 singles -
"Country On" – written by Mark Nesler, David Frasier, Mitch Oglesby, and Styles Haury 12-12-22
"Buy Dirt"- Jordan Davis Feat. Luke Bryan 1-24-22
"Waves"- written by Zach Crowell, Ryan Hurd and Chase McGill 8-30-21
"Down To One"- written by Dallas Davidson, Justin Ebach and Kyle Fishman 3-1-21
"One Margarita" – written by Michael Carter, Matt Dragstrem and Josh Thompson 7-6-21
"What She Wants Tonight"- written by Luke Bryan, Ross Copperman, Hillary Lindsey and Jon Nite 3-31-20
"Knockin' Boots"- written by Hillary Lindsey, Gordie Sampson and Jon Nite 9-9-19
"What Makes You Country"- written by Luke, Dallas Davidson and Ashley Gorley 2-27-19
"Sunrise, Sunburn, Sunset"- written by Zach Crowell, Ryan Hurd and Chase McGill 9-10-18
"Most People Are Good"- written by David Frasier, Ed Hill and Josh Kear 3-26-18
"Light It Up"- written by Luke Bryan, Brad Tursi 12-11-17
"Fast"—Written by: Luke Bryan, Rodney Clawson, Luke Laird 4-3-17
"Move"—Written by: Luke Bryan, Michael Carter, Jay Clementi 11-7-16
"Huntin', Fishin', And Lovin' Every Day"—Written by: Luke Bryan, Dallas Davidson, Rhett Akins, Ben Hayslip 6-20-16
"Home Alone Tonight"—Written by: Jody Stevens, Cole Taylor, Jaida Dreyer, Tommy Cecil 2-1-16
"Strip It Down—Written by: Luke Bryan, Jon Nite, Ross Copperman 10-19-15
"Kick The Dust Up"—Written by: Dallas Davidson, Chris DeStefano, Ashley Gorley 8-3-15
"I See You"—Written by: Luke Bryan, Ashley Gorley, Luke Laird 2-2-15
"Roller Coaster"—Written by: Michael Carter, Cole Swindell 10-6-14
"Play It Again"—Written by: Dallas Davidson, Ashley Gorley 5-19-14
"Drink A Beer"—Written by: Jim Beavers, Chris Stapleton 2-3-14
"That's My Kind of Night"—Written by: Dallas Davidson, Chris DeStefano, Ashley Gorley 10-21-13
"Crash My Party"—Written by: Rodney Clawson, Ashley Gorley 7-1-13
"Only Way I Know" Jason Aldean, Feat Luke Bryan 2-4-13
"Kiss Tomorrow Goodbye"—Written by: Luke Bryan, Jeff Stevens, Shane McAnally 11-5-12
"Drunk On You"—Written by: Rodney Clawson, Chris Tompkins, Josh Kear 6-4-12
"I Don't Want This Night To End"—Written by: Luke Bryan, Dallas Davidson, Rhett Akins, Ben Hayslip 1-16-12
"Someone Else Calling You Baby"—Written by: Luke Bryan, Jeff Stevens 2-13-11
"Rain Is A Good Thing"—Written by: Luke Bryan, Dallas Davidson 7-11-10
"Do I"—Written by: Luke Bryan, Dave Haywood, Charles Kelly 12-13-09