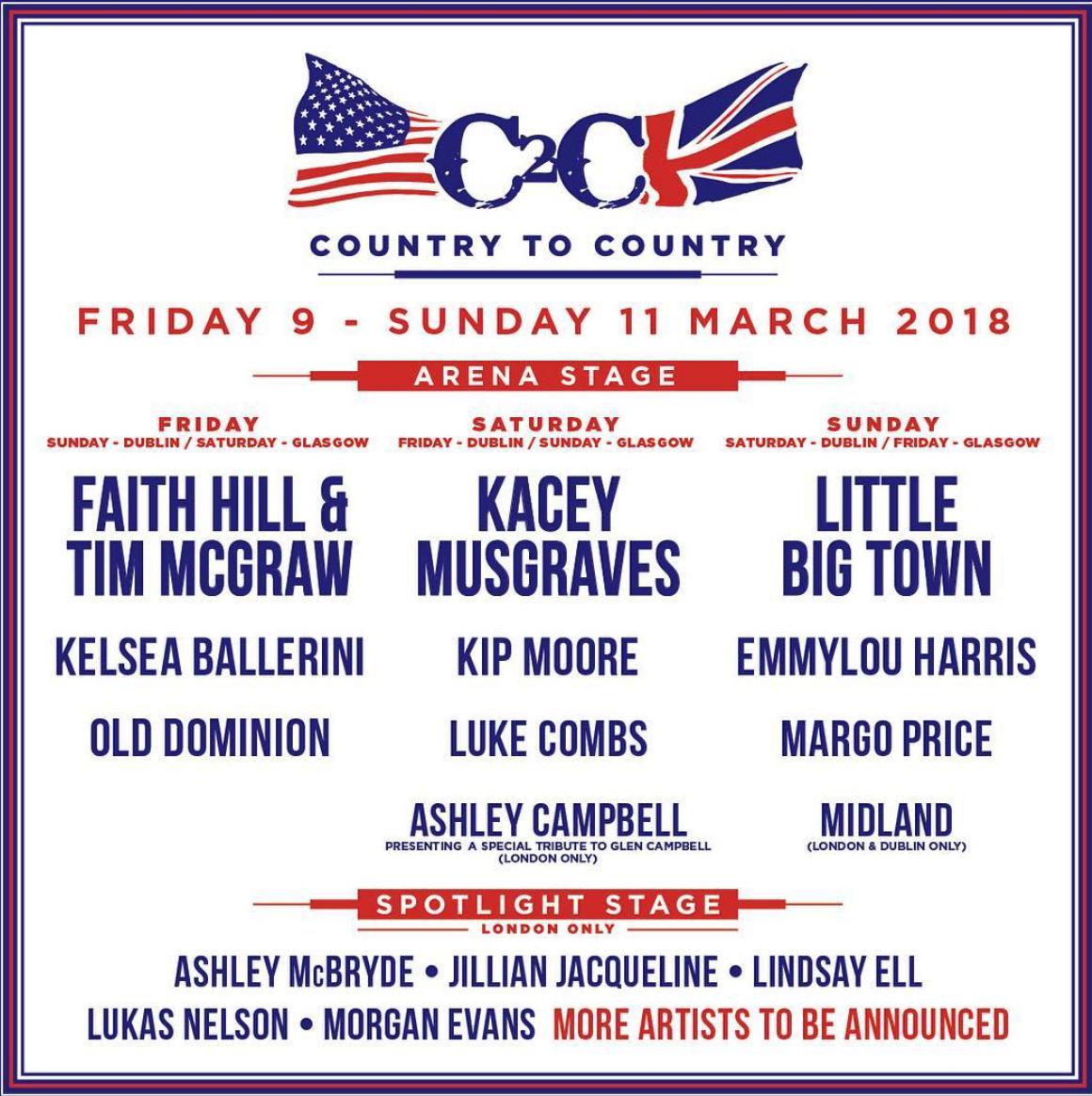 And it's impressive!
WHAT TO EXPECT AT C2C 2018
KIP MOORE, LUKE COMBS & MORE ANNOUNCED FOR CMA SONGWRITERS SERIES
HIGH VALLEY TO OPEN THE BBC RADIO 2 STAGE + NEW C2C CLOSE UP TO SHOWCASE UK ARTISTS
From Friday 9th to Sunday 11th March 2018, The O2, London will see country legends Faith Hill & Tim McGraw, alongside first time headliners Little Big Town and Kacey Musgraves, take to the stage at the sixth annual C2C.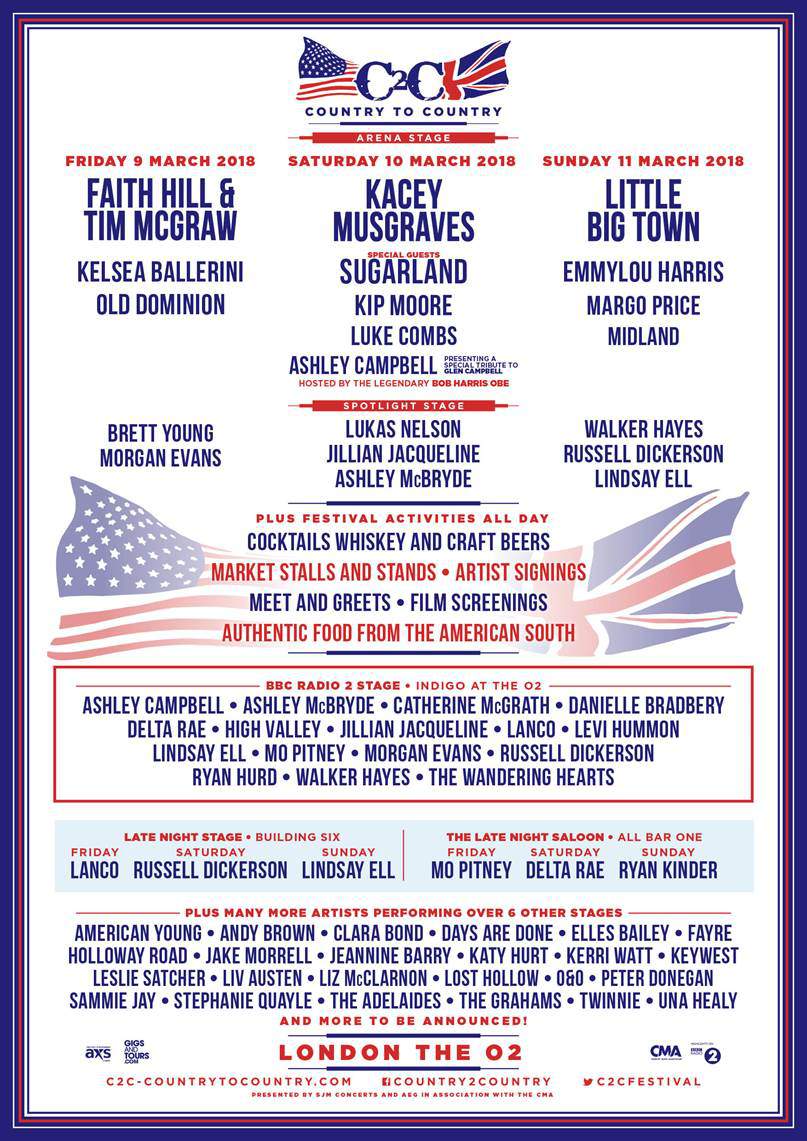 To be a part of the action, tickets are available now from: www.axs.com/c2c 08448 24 48 24.
The fifth CMA Songwriters Series, returning to indigo at The O2 on Thursday 8 March, will be hosted by celebrated songwriter Brett James ("Jesus, Take The Wheel", "Out Last Night"). He will be joined by a host of incredible songwriters and performers to celebrate the art of storytelling through song, including Luke Combs, Nicolle Galyon ("We Were Us", "All the Pretty Girls"), Natalie Hemby ("Downtown", "Automatic") and Kip Moore.
Country to Country will officially kick off at 1.30pm on Friday and 10.00am on Saturday and Sunday when the Town Square opens and the first Festival stage artists start. For the first time, the Town Square will be hosted in a new area (outside the main entrance), to make room for the ever-growing selection of festival activities including; market stalls and stands, authentic food from the American South, cocktails, whiskey and craft beers from Signal Brewery, a Big Machine hang out booth, artist signings, meet and greets and more.
C2C ticket holders are invited to enjoy any of the Festival Stages across the weekend, subject to capacity. This includes C2C Late Night Stage (Building Six); BBC Radio 2 Stage (indigo at The O2); Country Music Week Hub and The Saloon (All Bar One) and C2C Sessions (NY-LON). In addition to the Official Aftershows, C2C hosts a series of late night stages. Entertaining crowds into the evening this year are LANCO, Russell Dickerson, Lindsay Ell, Mo Pitney, Delta Rae and Ryan Kinder.
New for 2018, fans have the chance to get up close to the newest UK and Irish country names making a big impact on these shores. The C2C Close Up Stage in Building Six will reveal the backstory and future plans of some of the most promising UK and Irish acts, with intimate performances from Catherine McGrath, Andy Brown, Una Healy, Twinnie, Liv Austen, Katy Hurt and Jake Morrell.
Non-ticket holders are also able to access these stages with a Festival wristband which can be purchased for £10 via https://tickets.axs.com/shop/#/STAGES-03ed-479c-b118-59ea9619ac86. Separate tickets are required for The Bluebird Cafe and the Official Aftershows.
All visitors to The O2 can enjoy entertainment from the free stages, which include Town Square Stage, the Big Entrance Stage and Club WM. Other free festival activities include the traders, food, drink and retail in the Town Square, the merchandise area and the record store. All subject to capacity.
Fans should also expect surprise artist announcements across the weekend, details of which will be revealed on the C2C app. The app features stage times, artist info plus notifications about signings, competitions, secret performances and more.
CMA Presents Screenings in the Cinema
CMA and Nashville Convention and Visitors Corp. (NCVC) will have screenings on Saturday and Sunday at Cineworld at The O2, including BBC Music: Country Music Awards 2017: Highlights, which sees Bob Harris introduce highlights of The 51st Annual CMA Awards from Nashville, Tennessee. NCVC will show It All Begins With A Song: a film about one of the most important and unknown, forces in music: The Nashville Songwriter.
BBC Radio 2 Stage
We are excited to confirm that once again there will be a BBC Radio 2 Stage at C2C 2018 which will feature High Valley's only London performance on the Friday. Other performers include; Ashley Campbell, Ashley McBryde, Catherine McGrath, Danielle Bradbery , Delta Rae, Jillian Jacqueline, LANCO, Levi Hummon, Lindsay Ell, Mo Pitney, Morgan Evans, Russell Dickerson, Ryan Hurd, Walker Hayes and The Wandering Hearts.
BBC Radio 2 will broadcast live from C2C on Friday 9th March from 8-11pm. The radio station will also be recording the Saturday and Sunday concerts, for broadcast on Bob Harris Country on 15th, 22nd and 29th March from 7pm. These programmes will include performance highlights and backstage interviews with the performers.
The Bluebird Cafe at C2C (separate ticketed event)
Nashville's world famous Bluebird Cafe (as featured in the Nashville TV series) returns to London with ticketed, early afternoon performances. Introduced and curated by The Bluebird Cafe's Erika Wollam Nichols, the line-up includes; Ryan Hurd, Jillian Jacqueline, Mo Pitney, Walker Hayes, Ashley McBryde and Leslie Satcher.
Country Music Week Hub in All Bar One
Available to C2C ticket and wristband holders, the Country Music Week Hub will feature talks, on stage interviews and performances, plus meet & greets and signings after all performances.
The Spotlight Stage (inside arena)
Between artist performances on the main stage there will be short sets each day on the Spotlight Stage. Announced to perform are; Brett Young, Morgan Evans, Lukas Nelson, Jillian Jacqueline, Ashley McBryde, Walker Hayes, Russell Dickerson and Lindsay Ell.