Buckle And Boots Festival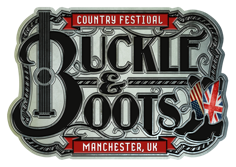 ANNOUNCING A 3 DAY FESTIVAL OF COUNTRY MUSIC NEAR MANCHESTER:
24TH, 25TH & 26TH JUNE, 2016
The inaugural Buckle & Boots Country Festival will be held over three consecutive days – Friday 24th, Saturday 25th and Sunday 26th June, 2016 – in the scenic surroundings of Etherow County Park, Stockport near Manchester.
Karl Hancock, owner of Whitebottom Farm Estates Ltd and co-founder of Buckle & Boots said: "We're excited to be bringing a Country Music Festival to the North of England that looks to put UK country music on the front foot and give UK country artists and musicians a shared platform to showcase their talents alongside seasoned country performers from the United States."
"We're delighted to be bringing in multi chart topping country powerhouse Phil Vassar from the US to help us establish the festival and make it a must-attend event for country fans annually right here in the UK. Equally, we're thrilled to have home grown UK country acts perform primetime slots on the main stage too."
The festival line-up will be announced in planned stages with the first round of artists announced today (Monday 25th January, 2016) below:
Phil Vassar (US)
Raintown (UK)
Jess and the Bandits (US/UK)
Gary Quinn (UK)
Karl continues: "We're proud to have festival partners Chris Country Radio and W21 Music on board to help make this the best event it can possibly be. We'll have superb music, camping/glamping on site, great food and beverage options and a wonderful setting with tickets starting from as little as £20, so we believe we're giving real value for money to the fans".
Tickets for Buckle & Boots Country Festival go on sale Monday 25th January 2016 at 9:00am and are available at www.buckleandboots.co.uk or by calling 0161 427 8273.