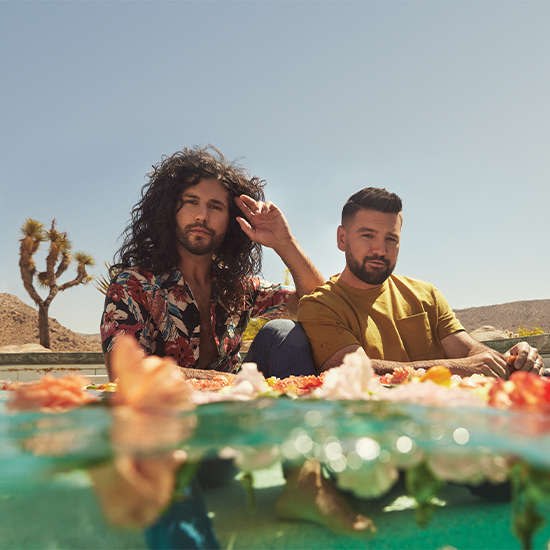 Good Things to be released on August 13th.
Country duo Dan + Shay have announced the title and release date of their next album.
Good Things will be available on August 13th 2021, and contains the group's three most recent songs - Glad You Exist, 10,000 Hours and I Should Probably Go To Bed.
The guys have also released a new single, which is the title track. You can watch the video here:
You can check out our conversation with Dan + Shay from 2018 here:
GOOD THINGS TRACK LISTING

1. Good Things (Dan Smyers, Ross Copperman, Jason Evigan, Ashley Gorley)^
2. Steal My Love (Dan Smyers, Andy Albert, Ashley Gorley, Jordan Reynolds)
3. You (Dan Smyers, Dave Barnes, Jordan Reynolds)*
4. Body Language (Dan Smyers, Shay Mooney, Scott Harris, Shawn Mendes, Jordan Reynolds)*
5. Give In To You (Dan Smyers, Julia Michaels, Jordan Reynolds)+
6. Irresponsible (Dan Smyers, Shay Mooney, Julia Michaels, Jordan Reynolds)*
7. Lying (Dan Smyers, Shay Mooney, Andy Albert, Jordan Reynolds, Bill Withers)
8. One Direction (Dan Smyers, Shay Mooney, Andy Albert, Jordan Reynolds)
9. Let Me Get Over Her (Dan Smyers, Shay Mooney, Andy Albert, Kyle Fishman, Jordan Schmidt, Brad Tursi)*
10. Glad You Exist (Dan Smyers, Shay Mooney, Ryan Lewis, Tayla Parx, Jordan Reynolds)
11. 10,000 Hours (with Justin Bieber) (Dan Smyers, Shay Mooney, Jessie Jo Dillon, Jordan Reynolds, Justin Bieber, Jason "Poo Bear" Boyd)
12. I Should Probably Go To Bed (Dan Smyers, Shay Mooney, Sean Douglas, Jason Evigan)
All tracks produced by Dan Smyers
*Co-produced with Scott Hendricks
^Co-produced with Jason Evigan
+Co-produced with Jordan Reynolds