The All Time Top 500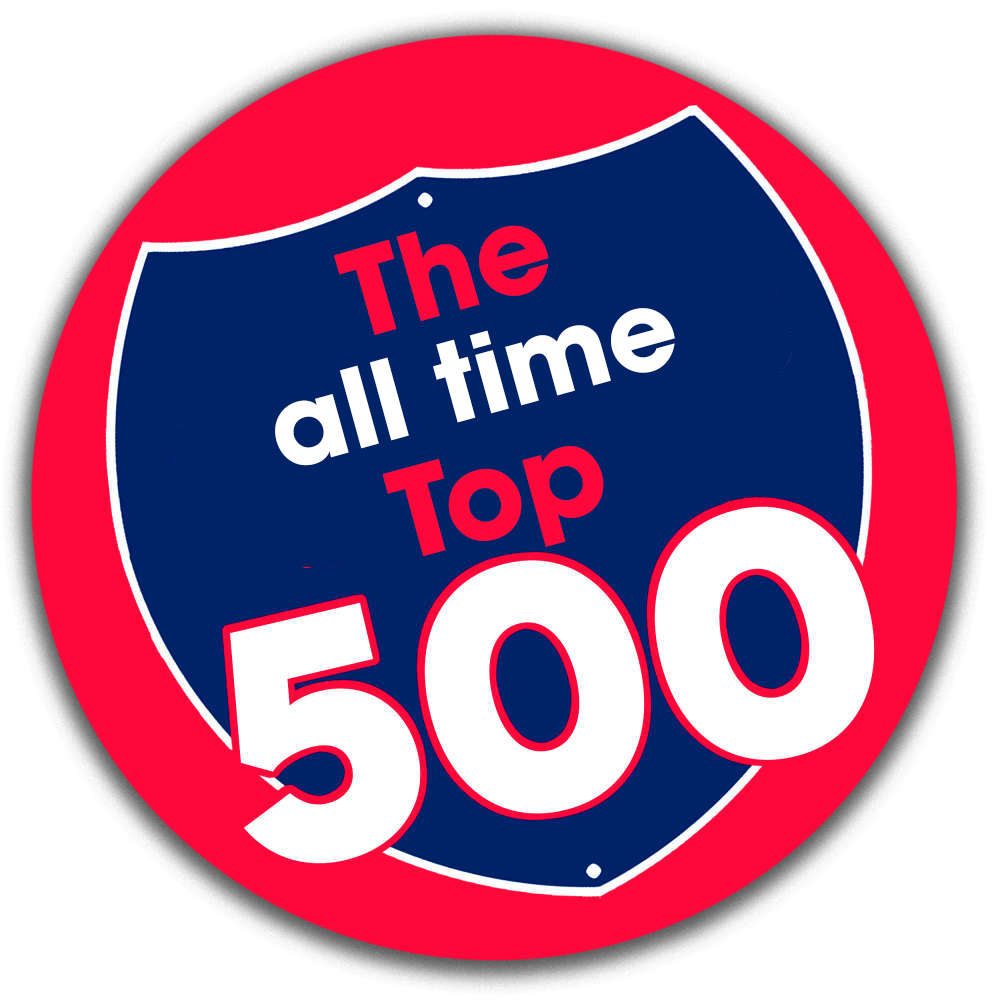 Thank you for voting in The All Time Top 500!
You voted, and we've been playing all 500 songs!
Here's how the final chart looked - such incredible songs.
Plus, you can listen to the chart as a Spotify playlist here. Please note that not all songs are available on Spotify, hence why it's a few songs short!
| | | |
| --- | --- | --- |
| 500 | Midland | Burn Out |
| 499 | LoCash | Ring On Every Finger |
| 498 | Carrie underwood | Heartbeat |
| 497 | Lonestar | Mr Mom |
| 496 | Collin Raye | I can Still Feel You |
| 495 | Mary Chapin Carpenter | Passionate Kisses |
| 494 | Brooks & Dunn | Only In America |
| 493 | Sara Evans | Born To Fly |
| 492 | Luke Bryan | What Makes You Country] |
| 491 | George Strait | I Cross My Heart |
| 490 | Florida Georgia line | Cruise |
| 489 | Carly Pearce | Closer to You |
| 488 | Waylon Jennings | Mammas Don't Let Your Babies Grown Up To Be Cowboys |
| 487 | Sammy Kershaw | She don't know she's beautiful |
| 486 | Chris Stapleton | Millionaire |
| 485 | George Strait | I Can Still Make Cheyenne |
| 484 | Hunter Hayes | Crazy |
| 483 | Riley Green | I Wish Grandpa's Never Died |
| 482 | Alan Jackson | Pop A Top |
| 481 | Kezia Gill | Whisky Drinking Woman |
| 480 | Joe Diffie | John Deere Green |
| 479 | Chris Young | Lonely eyes |
| 478 | Toby keith | As good as i once was |
| 477 | Taylor Swift | Betty |
| 476 | George Strait | Fool Hearted Memory |
| 475 | Kenny Chesney | Knowing you |
| 474 | Garth Brooks | Two of a kind (working on a full house) |
| 473 | Lady A | Champagne Nights |
| 472 | Faith Hill | Sunshine and summertime |
| 471 | Brad paisley | No I In Beer |
| 470 | Tim McGraw | My best friend |
| 469 | Zac brown band | Free |
| 468 | Rascal Flatts | Me and my gang |
| 467 | Eric Church | Stick That In Your Country Song |
| 466 | Mel McDaniel | Louisiana Saturday Night |
| 465 | Eli Young Band | Drunk Last Night |
| 464 | Gabby Barret | I hope |
| 463 | Tim McGraw | Something Like That |
| 462 | Brooks & Dunn | Red Dirt Road |
| 461 | Blake Shelton | Mine would be ypu |
| 460 | Zack brown band | Loving you is easy |
| 459 | Florida Georgia Line | H.O.L.Y |
| 458 | Easton Corbin | a little more country than that |
| 457 | Zac Brown Band | My Old Man |
| 456 | Carrie underwood | See You Again |
| 455 | Chris Jansen | Drunk Girl |
| 454 | Montgomery Gentry | Something To Be Proud Of |
| 453 | Rascal Flatts | Fast Cars And Freedon |
| 452 | Blake Shelton feat. Ashley Monroe | Lonely Tonight |
| 451 | Lindsay Ell | Criminal |
| 450 | Catherine McGrath ft Hunter Hayes | Don't Let Me Forget |
| 449 | Kane brown | What ifs |
| 448 | Johnny Cash | Folsom Prison Blues |
| 447 | Blake Shelton | Some Beach |
| 446 | Jordan Davis | Slow Dancing In A Parking Lot |
| 445 | Luke Combs | 1, 2, Many |
| 444 | Tammy Wynette | Stand by your man |
| 443 | Carly Pearce | Next Girl |
| 442 | Zac Brown Band | Toes |
| 441 | Old Dominion | Song For Another Time |
| 440 | Old Dominion | Hotel Key |
| 439 | Rascal flatts | Summer nights |
| 438 | Zac Brown Band | As She's Walking Away |
| 437 | Kip Moore | Wild Ones |
| 436 | Jon Pardi | Dirt On My Boots |
| 435 | Shania Twain | Don't Be Stupid |
| 434 | Old Dominion | Break up with him |
| 433 | Shania Twain | Still the One |
| 432 | Jake Owen | Made for you |
| 431 | Travis Tritt | Modern day bonnie and Clyde |
| 430 | Chris Young | Raised in Country |
| 429 | Brad Paisley | She's everything |
| 428 | Luke Bryan | Huntin', Fishin', And Lovin' Every Day |
| 427 | The shires | Guilty |
| 426 | Rascal Flatts | I Like The Sound Of That |
| 425 | Toby Keith | Red Solo Cup |
| 424 | George Strait | Write This Down |
| 423 | Randy Houser | What Whiskey Does |
| 422 | Maren Morris | 80s Mercedes |
| 421 | The Chicks | Goodbye Earl |
| 420 | Florida Georgia Line | May we all |
| 419 | Billy Currington | People are crazy |
| 418 | Brothers Osborne | Shoot me straight |
| 417 | Jason Andean | Dirt road anthem |
| 416 | Luke Bryan | One Margarita |
| 415 | Morgan Wallen | More than my hometown |
| 414 | Zac Brown Band | Knee Deep |
| 413 | Brooks & Dunn | Cowgirls don't cry |
| 412 | Granger Smith | Backroad Song |
| 411 | Kacey Musgraves | Follow Your Arrow |
| 410 | Charley Pride | Kiss An Angel Good Morning |
| 409 | Hank Williams Jr | A Country Boy Can Survive |
| 408 | Lady A | Compass |
| 407 | Lee Brice | Boy |
| 406 | Jo Dee Messina | Heads Carolina Tails California |
| 405 | Jason Aldean | Blame it on you |
| 404 | The Band Perry | Better Dig Two |
| 403 | Dolly Parton | 9 To 5 |
| 402 | Keith Urban | Somebody like you |
| 401 | Brothers Osborne | It ain't my Fault |
| 400 | Sugarland | Baby Girl |
| 399 | Little Big Town | A Better Man |
| 398 | Garth Brooks | Ain't Going Down until The Sun Comes Up |
| 397 | Tim Mcgraw | My little girl |
| 396 | The Band Perry | If I Die Young |
| 395 | Blake Shelton and Gwen Stafani | Nobody but you |
| 394 | Kenny Chesney | Don't Blink |
| 393 | Jimmy Buffet | Magaritaville |
| 392 | Kenny Chesney | Me And You |
| 391 | George Strait | Check Yes or No |
| 390 | Luke Bryan | That's My Kind Of Night |
| 389 | Alison Krauss | Gentle On My Mind |
| 388 | Jo Dee Messina | Bring On The Rain |
| 387 | Kid Rock | All Summer Long |
| 386 | Garth Brooks | That Summer |
| 385 | Luke Bryan | Wave's |
| 384 | Joe Diffy | Pick Up Man |
| 383 | Brooks & Dunn | You're Gonna Miss Me |
| 382 | Billy Ray Cyrus | Achy Breaky Heart |
| 381 | Florida Georgia Line | Meant to Be |
| 380 | George Strait | Run |
| 379 | Kenny Chesney | American Kids |
| 378 | Alan Jackson | Living On Love |
| 377 | Lil Naz X | Old Town Road |
| 376 | Brad Paisley | The Mona Lisa |
| 375 | Alan Jackson | Where Were You When The World Stopped Turning |
| 374 | Eric Church | How 'bout You |
| 373 | Marty Robbins | El Paso |
| 372 | Love And Theft | Angel Eyes |
| 371 | Ryan Hird | To a T |
| 370 | Billy Currington | Good Directions |
| 369 | Lee Brice | Rumor |
| 368 | Sugarland | Stay |
| 367 | Alabama | Angels among us |
| 366 | Cassadee Pope | I Wish I Could Break Your Heart |
| 365 | Kenny chesney | Young |
| 364 | Jason Aldean featuring Miranda Lambert | Drowns the Whiskey |
| 363 | Hunter Hayes | Invisible |
| 362 | Luke Bryan | Rollercoaster |
| 361 | Montgomery Gentry | Back When I Knew It All |
| 360 | Chris Young and Cassadee Pope | Think of you |
| 359 | Sam Hunt | Take Your Time |
| 358 | Brooks & Dunn | Play Something Country |
| 357 | Jake Owen | Down To The Honky Tonk |
| 356 | Phil Vassar | Just another day in paradise |
| 355 | The Chicks | Not Ready to Make Nice |
| 354 | Luke Bryan | Sunrise Sunburn Sunset Repeat |
| 353 | Miranda Lambert | Gunpowder And Lead |
| 352 | Little Big Town | Wine, Beer, Whiskey |
| 351 | Justin Moore | That's Why We Drink |
| 350 | Toby Keith | Whiskey Girl |
| 349 | Blake Shelton | Home |
| 348 | Willie Nelson | On The Road Again |
| 347 | Garth Brooks | More Than a Memory |
| 346 | Florida Georgia Line | This Is How We Roll |
| 345 | Toby Keith | Should've Been A Cowboy |
| 344 | Carrie Underwood | Church Bells |
| 343 | John Michael Montgomery | Life's A Dance |
| 342 | Tim McGraw | It's Your Love |
| 341 | Lady a | American Honey |
| 340 | Billy Currington | Pretty Good At Drinking Beer |
| 339 | Brad Paisley | Water |
| 338 | Chris Young | Aww Naw |
| 337 | Keith urban | Days go by |
| 336 | Maren Morris | Rich |
| 335 | Dierks Bentley | Somewhere on a beach |
| 334 | Locash | I Know somebody |
| 333 | Kenny Chesney | Somewhere Like You |
| 332 | Chris Young | Who I Am With You |
| 331 | Brad Paisley | Mud on the tyres |
| 330 | Merle Haggard | Mama Tried |
| 329 | Big & Rich | Comin' To Your City |
| 328 | vince gill | go rest high on that mountain |
| 327 | Brad Paisley | Remind Me |
| 326 | Kip Moore | Beer Money |
| 325 | Billy Swan | I Can Help |
| 324 | Miranda Lambert | Vice |
| 323 | Walker hayes | Fancy like |
| 322 | Dolly Parton | It's All Wrong, But It's Alright |
| 321 | Sara Evans | Slow Me Down |
| 320 | Miranda Lambert | Kerosene |
| 319 | Johnny Cash | Jackson |
| 318 | Bon Jovi | Who Says You Can't Go Home |
| 317 | LeAnn Rimes | How Do I Live |
| 316 | Hardy | Rednecker |
| 315 | Danielle Bradbery | Sway |
| 314 | Dylan Scott | My Girl |
| 313 | George Strait | I just wanna dance with you |
| 312 | Tracy Byrd | Ten Rounds With Jose Cuervo |
| 311 | Kelsea Ballerini | Peter Pan |
| 310 | Miranda Lambert | Tin Man |
| 309 | Jimmie Allen | Make Me Want To |
| 308 | Gloriana | Wild At Heart |
| 307 | Joe Nichols | Yeah Boy |
| 306 | Chris young | Losing sleep |
| 305 | Gary Allen | Nothing On But The Radio |
| 304 | Russell Dickerson | Home Sweet |
| 303 | Blake Shelton & Gwen Stefani | Go ahead and break my heart |
| 302 | Midland | Cheatin' Songs |
| 301 | Little Big Town | Sober |
| 300 | Gloriana | Best Night Ever |
| 299 | The Shires | Independence Day |
| 298 | Lonestar | What About Now |
| 297 | Maren Morris | My Church |
| 296 | Faith Hill | There you'll be |
| 295 | Little Big Town | Little White Church |
| 294 | Maddie & Tae | Girl In A Country Song |
| 293 | Chris Young | Drowning |
| 292 | Faith Hill | This Kiss |
| 291 | Little Big Town | Pontoon |
| 290 | Ward Thomas | Way Back When |
| 289 | Florida Georgia Line | Sun Daze |
| 288 | Chris Lane | Big Big Plans |
| 287 | Trace Adkins | This ain't no thinking thing. |
| 286 | Gary Allen | Watching Airplanes |
| 285 | Miranda Lambert | Mama's Broken Heart |
| 284 | Chris Young | Famous Friends |
| 283 | The Highwaymen | Highwayman |
| 282 | Ashley Monroe | Weed Instead Of Roses |
| 281 | Montgomery Gentry | Hell Yeah |
| 280 | Miranda Lambert | Automatic |
| 279 | Ward Thomas | Cartwheels |
| 278 | Mark Wills | 19 Somethin |
| 277 | Brad Paisley | American Saturday Night |
| 276 | Mavericks | Dance The Night Away] |
| 275 | Maren Morris | Dear Hate |
| 274 | Caylee Hammack | Family Tree |
| 273 | Joe Nichols | Sunny and 75 |
| 272 | Devin Dawson | All On Me |
| 271 | Thompson Square | Everything I Shouldn't Be Thinking About |
| 270 | Johnny Cash | I Walk The Line |
| 269 | Kacey Musgraves | Merry Go Round |
| 268 | Noah Schnacky | Hello Beautiful |
| 267 | Brooks & Dunn | My Maria |
| 266 | Faith Hill | The Way You Love Me |
| 265 | Thomas Rhett | Die A Happy Man |
| 264 | Garth Brooks | Dive Bar |
| 263 | Frankie Ballard | Sunshine And Whiskey |
| 262 | Loretta Lynn | Coal Miner's Daughter |
| 261 | Maren Morris | The Bones |
| 260 | Steve Holy | Good morning beautiful. |
| 259 | Jace Everett | Bad Things |
| 258 | Montgomery Gentry | My Town |
| 257 | Kenny Chesney | Everybody Wants To Go To Heaven |
| 256 | Glen Campbell | Galveston |
| 255 | Maren Morris | Girl |
| 254 | Bucky Covington | A Father's Love |
| 253 | Chris Stapleton | You Should Probably Leave |
| 252 | Terri Clark | Girls Like Too |
| 251 | Rodney Atkins | It's America |
| 250 | Kelsea Ballerini | Dibs |
| 249 | Reba McIntyre | The Night The Lights Went Out In Georgia |
| 248 | Rodney Atkins | Cleaning This Gun |
| 247 | Darius Rucker | Alright |
| 246 | Scotty McCreery | See You Tonight |
| 245 | Dylan Scott | Nobody |
| 244 | Darius Rucker | It Won't Be Like This For Long |
| 243 | Luke Bryan | I don't want this night to end |
| 242 | Scotty McCreery | You Time |
| 241 | Carly Pearce | Every little thing |
| 240 | Brothers Osborne | I Don't Remember Me (Before You) |
| 239 | Mitchell Tenpenny | Drunk Me |
| 238 | Tim McGraw | Highway Dont Care |
| 237 | Lauren Alaina | Road Less Traveled |
| 236 | Lonestar | Walking In Memphis |
| 235 | Brett Eldredge | Lose My Mind |
| 234 | Maddie & Tae | Die Of A Broken Heart |
| 233 | Josh Turner | Why Don't We Just Dance |
| 232 | Ward Thomas | Carry You Home |
| 231 | Ingrid Andress | Lady Like |
| 230 | The Shires | Nashville Grey Skies |
| 229 | Gretchen Wilson | Here For The Party |
| 228 | Lindsay Ell | By The Way |
| 227 | Morgan Evans | Kiss Somebody |
| 226 | Miranda Lambert | White Liar |
| 225 | Justin Moore | You look like I need a drink |
| 224 | Rascal Flatts | My Wish |
| 223 | Hayden Panttiere | Hypnotising |
| 222 | The Shires | Sleepwalk |
| 221 | Carrie Underwood | All American Girl |
| 220 | Thomas Rhett | What's Your Country Song |
| 219 | Kenny Chesney | Build a better Boat |
| 218 | Johnny Cash | Ring Of Fire |
| 217 | Joe Nichols | Tequila Makes Her Clothes Off |
| 216 | Cole Swindell | Flatliner |
| 215 | Elvie Shane | My Boy |
| 214 | Darius Rucker | Radio |
| 213 | Brett Eldredge | Beat Of The Music |
| 212 | Taylor Swift | You Belong With Me |
| 211 | Dan & Shay | I Should Probably Go to Bed |
| 210 | Runaway June | Buy My Own Drinks |
| 209 | Tenille Arts | Somebody Like That |
| 208 | Ashley McBryde | A Little Dive Bar In Deloniga |
| 207 | Thompson Square | Are You Gonna Kiss Me Or Not |
| 206 | Chase rice | Three chords and the truth. |
| 205 | Lanco | Greatest Love Story |
| 204 | Rhett Akins | That Ain't My Truck |
| 203 | Johnny Cash | Hurt |
| 202 | Garth brooks | Unanswered prayers |
| 201 | Kellie Pickler | Best Days Of Your Life |
| 200 | Cody Johnson | On My Way To You |
| 199 | Luke Bryan | Most people are Good |
| 198 | Shania Twain | Man I feel like a Woman |
| 197 | Brett Eldredge | Drunk On Your Love |
| 196 | Lonestar | I'm Already There |
| 195 | Keith Urban | God Whispered Your Name |
| 194 | Blake Shelton | I'll name the dogs |
| 193 | Chris Stapleton | Nobody To Blame |
| 192 | Kip Moore | The Bull |
| 191 | Eric Church | Kill a Word |
| 190 | Reba McIntyre | I Keep On Loving You |
| 189 | Thomas Rhett | I remember you young |
| 188 | Thomas Rhett | T-Shirt |
| 187 | LoCash | I Love This Life |
| 186 | Phil Vassar | Love Is A Beautiful Thing |
| 185 | Blake Shelton | Honey Bee |
| 184 | Pat Green | Wave On Wave |
| 183 | Emerson Drive | Moments |
| 182 | Trace Adkins | Honkytonkbadonkadonk |
| 181 | Brandy Clark | Stripes |
| 180 | Dustin Lynch | Ridin' Roads |
| 179 | Brad Paisley | Perfect Storm |
| 178 | Chase Rice | Eyes On You |
| 177 | Eric Paslay | Friday Night |
| 176 | The Wandering Hearts | Devil |
| 175 | Niko Moon | Good Time |
| 174 | Clint Black | Killin' Time |
| 173 | Eric Church | Drink in my hand |
| 172 | Russell Dickerson | Blue Tacoma |
| 171 | David Ball | Riding With Captain Mallone |
| 170 | Lauren Alaina | Ladies In The 90s |
| 169 | Tracy Byrd | Drinkin' Bone |
| 168 | Blake Shelton | Sangria |
| 167 | Sara Evans | Suds In The Bucket |
| 166 | Alan Jackson | Blue Ridge Mountain Song |
| 165 | Jake Owen | Eight Second Ride |
| 164 | Travis Denning | After a Few |
| 163 | Justin Moore | Why we drink |
| 162 | Hardy | Give Heaven Some Hell |
| 161 | Willie Nelson | Always On My Mind |
| 160 | Morgan Wallan | Whiskey Glasses |
| 159 | Band Perry | Chainsaw |
| 158 | Kacey Musgraves | Dime Store Cowgirl |
| 157 | Jason Aldean | Amarillo Sky |
| 156 | Easton Corbin | Are You With Me |
| 155 | Dustin Lynch | Momma's House |
| 154 | The Adelaides | Good Love |
| 153 | Old Dominion | No such thing as a broken heart |
| 152 | Rascal flats | What hurts the most |
| 151 | Alan Jackson | Drive |
| 150 | Brooks & Dunn | Boot Scootin Boogie |
| 149 | Keith Whitley | When You Say Nothing At All |
| 148 | Faith Hill | Breathe |
| 147 | The CMA | Forever Country |
| 146 | John Michael Montgomery | Sold (The Grundy County Auction Incident) |
| 145 | Jimmie Allen | Best Shot |
| 144 | Lynyrd Skynyrd | Sweet Home Alabama |
| 143 | Brothers Osborne | 21 Summer |
| 142 | Kip moore | Hey pretty girl |
| 141 | The Bellamy Brothers | Let Your Love Flow |
| 140 | Jessica Andrews | Who I Am |
| 139 | Brantley Gilbert | Bottoms Up |
| 138 | Diamond Rio | Meet In The Middle |
| 137 | Chris Janson | Buy Me A Boat |
| 136 | Jana Kramer | I Got The Boy |
| 135 | Brad Paisley | I Can't Change The World |
| 134 | Kelsea Ballerini | Yeah Boy |
| 133 | Rodney Atkins | If You're Going Through Hell |
| 132 | Ricochet | Daddy's Money |
| 131 | Little Texas | God blessed Texas |
| 130 | Brooks & Dunn | My Next Broken Heart |
| 129 | Randy Travis | On The Other Hand |
| 128 | Luke Bryan | Drink a beer |
| 127 | Hal Ketchem | Loving You Makes Me A Better Man |
| 126 | Noah Schnacky | Don't you wanna know |
| 125 | Dan And Shay | Glad You Exist |
| 124 | Shania Twain | From This Moment On |
| 123 | Dan & Shay | From the ground up |
| 122 | Kip Moore | Something bout a truck |
| 121 | Sugarland | Stuck like glue |
| 120 | Tim McGraw | Don't take the girl |
| 119 | Cam | Burning House |
| 118 | George Strait | Amarillo by morning |
| 117 | George Strait | Carried Away |
| 116 | Scotty McCreery | Five More Minutes |
| 115 | Gretchen Wilson | Redneck Woman |
| 114 | Toby Keith | American Ride |
| 113 | Kane Brown | Heaven |
| 112 | Brooks & Dunn | Brand New Man |
| 111 | Luke Combs | Beer Never Broke My Heart |
| 110 | Brothers Osborne | Stay a little longer |
| 109 | Dan + Shay | Tequila |
| 108 | Emmylou Harris | Pancho And Lefty |
| 107 | Dan and Shay | Speechless |
| 106 | Garth Brooks | Shameless |
| 105 | Big & rich | Save a horse, ride a cowboy |
| 104 | Russell Dickerson | Yours |
| 103 | Chris Stapleton | Fire Away |
| 102 | Zac Brown Band | Homegrown |
| 101 | Kip Moore | I'm to blame |
| 100 | Kenny Rogers | Coward of the county |
| 99 | Chris Stapleton | When The Stars Come Out |
| 98 | Josh Turner | Your man |
| 97 | Ingrid Andress | More Hearts than mine |
| 96 | William Michael Morgan | Missing |
| 95 | Keith Urban | Never coming down |
| 94 | Chris Young | The Man I Want To Be |
| 93 | Ashley Mcbryde | Girl Going Nowhere |
| 92 | The Cadillac Three | The South |
| 91 | Chris Young | I'm comin over |
| 90 | Florida Georgia Line | Dirt |
| 89 | George Strait | All My Ex's Live in Texas |
| 88 | Chris Young | Getting you home |
| 87 | Chris Stapleton | Broken Halos |
| 86 | Glen Campbell | Gentle On My Mind |
| 85 | David Allan Coe | You Never Even Called Me By My Name |
| 84 | Luke Combs | She Got the Best of Me |
| 83 | Chris Stapleton | Traveller |
| 82 | Dwight Yoakam | Guitars & Cadillacs |
| 81 | Tim McGraw | Everywhere |
| 80 | Lainey Wilson | Things A Man Oughta Know |
| 79 | Ashley McBryde | Martha Divine |
| 78 | Brad Paisley | We Danced |
| 77 | Dolly Parton | Coat Of Many Colours |
| 76 | Trisha Yearwood | Georgia Rain |
| 75 | The Chicks | Cowboy Take me away |
| 74 | Chris Stapleton | Starting Over |
| 73 | Charlie Daniels band | The Devil Went Down To Georgia |
| 72 | Don Williams | Your my best friend |
| 71 | Toby Keith | God Love Her |
| 70 | Luke combs | Better together |
| 69 | Dolly Parton | I Will Always Love You |
| 68 | Little Big Town | Girl Crush |
| 67 | Brad Paisley | This is Country Music |
| 66 | Keith Whitley | Don't Close Your Eyes |
| 65 | Kenny Rogers | Islands In The Stream |
| 64 | Kip Moore | She's Mine |
| 63 | Johnny Cash | A Boy Named Sue |
| 62 | Martina McBride | Independence Day |
| 61 | Garth Brooks | Standing Outside The Fire |
| 60 | Miranda Lambert | Bluebird |
| 59 | Luke Bryan | Knockin Boots |
| 58 | Randy Travis | Forever And Ever |
| 57 | Toby Keith | Beer for myHorses |
| 56 | Blake Shelton | Austin |
| 55 | Brad Paisley | Southern Comfort Zone |
| 54 | Jason aldean | She's country |
| 53 | Keith urban | Blue ain't your colour |
| 52 | Garth Brooks | The Thunder Rolls |
| 51 | Kacey Musgraves | Rainbow |
| 50 | Brett Young | In Case You Didn't Know |
| 49 | The Chicks | Travelling Soldier |
| 48 | Lonestar | Amazed |
| 47 | Dierks Bentley | Drunk on a plane |
| 46 | Steve Earle | Copperhead Road |
| 45 | Taylor Swift | Love Story |
| 44 | Cam | Diane |
| 43 | Glen Campbell | Rhinestone Cowboy |
| 42 | Garth Brooks | If tomorrow never comes |
| 41 | Miranda Lambert | The House That Built Me |
| 40 | Rascal Flats | Bless The Broken Road |
| 39 | Lee Anne Womack | I hope you dance (featuring the Sons of the Desert) |
| 38 | Old Dominion | Make it sweet |
| 37 | Reba McIntyre | Fancy |
| 36 | Luke combs | Hurricane |
| 35 | Luke Combs | Six Feet Apart |
| 34 | Brad Paisley | Then |
| 33 | Carrie Underwood | Jesus, Take The Wheel |
| 32 | Pasty Cline | Crazy |
| 31 | George Strait | The Chair |
| 30 | Zac Brown Band ft Little Big Town | Colder Weather |
| 29 | Luke Combs | Forever after all |
| 28 | Alan Jackson | Chattahoochie |
| 27 | Midland | Drinkin' Problem |
| 26 | Brooks & Dunn | Neon Moon |
| 25 | Toby Keith | I Love This Bar |
| 24 | Luke Bryan | Country Girl Shake It For Me |
| 23 | Brad Paisley | Waitin on a Woman |
| 22 | Darius Rucker | Wagon Wheel |
| 21 | Blake Shelton | God's Country |
| 20 | Glen Campbell | Wichita Lineman |
| 19 | Dolly Parton | Jolene |
| 18 | Eric Church | Springsteen |
| 17 | Tim McGraw | Humble and kind |
| 16 | Carrie Underwood | Before he cheets |
| 15 | Alan Jackson | Remember When |
| 14 | Lady A | Need you now |
| 13 | Brad Paisley | Whiskey Lullaby |
| 12 | kenny Rogers | The Gambler |
| 11 | Luke Bryan | Play it again |
| 10 | John Denver | Country Roads |
| 9 | George Jones | He Stopped Loving Her Today |
| 8 | Luke Combs | When It Rains It Pours |
| 7 | Alan Jackson | It's 5 O'Clock Somewhere |
| 6 | Tim McGraw | Live Like You Were Dying |
| 5 | Luke Combs | Beautiful Crazy |
| 4 | Garth Brooks | Friends In Low Places |
| 3 | Zac Brown Band | Chicken Fried |
| 2 | Garth Brooks | The Dance |
| 1 | Chris Stapleton | Tennesee Whiskey |
Top 50 In Videos
50 Brett Young - In Case You Didn't Know

49 The Chicks - Travelling Soldier

48 Lonestar - Amazed

47 Dierks Bentley - Drunk on a plane

46 Steve Earle - Copperhead Road

45 Taylor Swift - Love Story

44 Cam - Diane

43 Glen Campbell - Rhinestone Cowboy

42 Garth Brooks - If tomorrow never comes

41 Miranda Lambert - The House That Built Me

40 Rascal Flatts - Bless The Broken Road

39 Lee Anne Womack - I Hope You Dance

38 Old Dominion - Make It Sweet

37 Reba Mcintyre - Fancy

36 Luke Combs - Hurricane

35 Luke Combs - Six Feet Apart

34 Brad Paisley - Then

33 Carrie Underwood - Jesus, Take The Wheel

32 Pasty Cline - Crazy

31 George Strait - The Chair

30 Zac Brown Band - Colder Weather

29 Luke Combs - Forever After All

28 Alan Jackson - Chattahoochie

27 Midland - Drinkin' Problem

26 Brooks & Dunn - Neon Moon

25 Toby Keith - I Love This Bar

24 Luke Bryan - Country Girl Shake It For Me

23 Brad Paisley - Waitin On A Woman

22 Darius Rucker - Wagon Wheel

21 Blake Shelton - God's Country

20 Glen Campbell - Wichita Lineman

19 Dolly Parton - Jolene

18 Eric Church - Springsteen

17 Tim Mcgraw - Humble And Kind

16 Carrie Underwood - Before He Cheats

15 Alan Jackson - Remember When

14 Lady A - Need You Now

13 Brad Paisley - Whiskey Lullaby

12 Kenny Rogers - The Gambler

11 Luke Bryan - Play It Again

10 John Denver - Country Roads

9 George Jones - He Stopped Loving Her Today

8 Luke Combs - When It Rains It Pours

7 Alan Jackson - It's 5 O'clock Somewhere

6 Tim Mcgraw - Live Like You Were Dying

5 Luke Combs - Beautiful Crazy

4 Garth Brooks - Friends In Low Places

3 Zac Brown Band - Chicken Fried

2 Garth Brooks - The Dance

1 Chris Stapleton - Tennesee Whiskey