EXCLUSIVE: Listen to Jess And The Bandits Christmas EP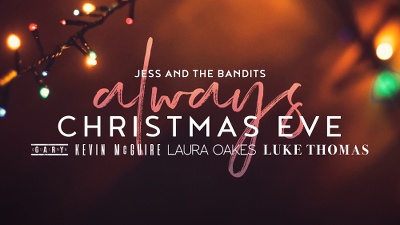 We're excited to be the first people to share Jess And The Bandits new EP with you!
2017 will be a Christmas that Jess Clemmons' never forgets! Having found a second home here in the UK, and embraced by the UK country community, Jess has teamed up with some of her closest artist friends for a terrific Christmas collaboration!
The EP features four of the UK's brightest Country stars – artists Gary Quinn, Laura Oakes and Kevin McGuire, along with fellow Bandit and BCMA Musician of the Year, Luke Thomas. A mixture of traditional and more contemporary festive tunes, the EP includes original 'Always Christmas Eve', penned by Gary Quinn and another native Texan, David Banning.
All four of the featured artists are also set to be joining Jess at various venues up and down the UK, as part of her February headlining tour.
'Always Christmas Eve' Track List:
1. Baby, It's Cold Outside - duet with Kevin McGuire
2. Wrapped In Red – featuring Luke Thomas
3. Always Christmas Eve - duet with Gary Quinn
4. O Holy Night - duet with Laura Oakes
LISTEN HERE:
Pre-order the album here: